Our 60th year
in Business


A Family Owned Business Since 1953




(260) 693-3134


Jerry Felger, Owner
9912 Valentine Road
Fort Wayne, Indiana 46818

Search Our Site:
We Offer Several Specialty Soil Blends, Distinctive to Felger's Peat Moss

Peat Moss

Definition: All peat moss is vegetable matter (plant remains) that over millions of years has laid under water in swampy areas or bogs, and has decayed. Peat moss differs from other soils because it retains a fibous texture. Peat moss deposits are not found everywhere. It is most commonly found in Northern Europe and Canada. However, we are fortunate here in Northern Indiana to have some peat moss bogs. In the past, peat moss was used as a mulch material until wood mulches became popular.

Commom Uses: Soil amendment, Holds moisture (depending on fiber content, it can hold 6-15 times its own weight in water), Helps loosen clay soil, Good additive for flowerbeds, vegetable gardens, Potting Soil & container gardening, Earthworm farming or anywhere soil needs to be improved.

Definition: Black Soil is found in lower ground. Black soil has more nutrition than Brown Soil. However, it is lighter weight so it does not compact as well. Thus it is better used in combinatoin with other soils.

Commom Uses: Helps loosen clay soil, Good aditive for Flowerbeds, Vegetable Gardens and for Potting Soil & container gardening.

Definition: Brown Topsoil is a heavy soil found on high ground. It is not Clay. However, It does have a Clay base consistency.

Commom Uses: Seeding Grass, filling holes in yard for patching to re-seed, planting trees & shrubs (plants that have large root systems need a heavier soil to keep their root in place). And, for filling in around foundations.

Potting Soil
Definition: Consists of Black soil, Peat Moss and Sand.

Commom Uses: Flower & Vegetable gardens (best used when tilled with existing soil), potted plants and large planters.

Compost

We also offer some type of compost at all times. However, the type of compost can very.
Please, call for our current compost that is currently available

Black & Peat Mix

Definition: Black & Peat is a blend of Black Soil and Peat Moss.

Commom Uses: For amendment to heavier soils to make them easier to work with in gardens and flowerbeds. The Black Soil adds nutrients and loosens the soil, while Peat Moss aids in lossening and also helps hold in moisture.

Top-Black-Peat

Definition: Top-Black-Peat is a combination of Brown Topsoil, Black Soil and Peat Moss.

Commom Uses: For raised beds and where you are not tilling with existing soil.

* Notes for all soils *

* On average one cubic yard of soil will cover 100 square feet with (3) three inches of depth.
(Please, call for help configuring or for specific needs)

* Soil deliveries are always dependent upon weather conditions. Deliveries may need to be postponed for a better day or time.

* Because of the fact that our customers use our soils for several different purposes,
None of our soils have been chemically or heat-treated.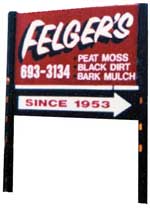 Can't find what your looking for? Ask about other available products.
Pick-up and Delivery Available
Terms are: Cash or Check. We do not accept any form of credit cards
About Felger's Peat Moss
Map - Find Felger's
© 2008 - 2014 Felger's Peat Moss. All Rights Reserved ®
Terms & Conditions | Legal Notice | Site Map
Website designed by Bravell Limited