However, during the depression years, like many other farmers, the land was lost for lack of cash to pay the taxes. Sadly, the family had to move. After Herb's senior year in high school,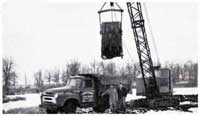 jobs were hard to find. Herb joined the C.C.C. Camps established by President Franklin Roosevelt. He then enlisted in the National Guard and spent time in the U.S. Marine Corp. After the outbreak of WWII, Herb then joined the Navel Civil Service. Wanting to help in the war effort, he was stationed in Pearl Harbor, working as a machinist on naval vessels.

Herb returned to Fort Wayne in 1945 and started his trucking business, hauling stone, cinders, gravel, etc. Marriage to Ruth Gerber followed in 1947. The hauling business grew, and Herb realized how much the rich soil and peat moss on his families farm would compliment his growing business. Negotiating and purchasing the farm from the current owner, the Felger family moved back HOME in 1953.
Herb immediately began stock piling peat moss, black soil, gravel, driveway stone, and cinders. The business was called 'Herb Felger Peat Moss'. Jerry was three years old at the time, and constantly at his father's side. Jerry Felger loaded his first pickup truck, when he was eight years old, much to the customer's surprise. The business grew as Jerry grew.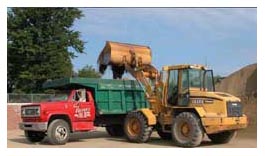 In the late 1960's, Felger's Peat Moss
was one of the first companies in Indiana
to begin selling bark mulch in bulk quantities.
Right at the time that Fort Wayne residents interest grew in landscaping their yards. Initially,
Herb and Ruth sold small amounts of peat moss,
black soil, gravel and limestone,
to a handful of customers a week,
from the early spring to fall.

Today, the business has evolved into a year round business, selling peat moss,
black soil, brown topsoil, potting soil, special soil mixes, and compost. Additionally,
the mulch types have increased to over 25 types, several hardwood mulches, pine mulches, cedar and cypress mulches, color-enhanced mulches, in many colors, and economy mulches.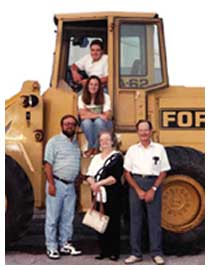 The gravel and limestone products have increased
to many types of decorative stone, native river rock,
flagstone, boulders and outcroppings, steppingstones,
retaining wall block and pavers. Additionally, Felger's
carries replicated rock, which is used for covering pipes.

The business now sells to both commercial and residencial landscape customers, in a six-state area.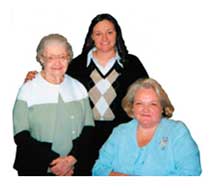 Matthew and Stephanie Felger are the third generation to join the business. They started helping their father as children, during their summer breaks. Matthew, following in his
father's footsteps, started loading trucks for customers at a young age, and Stephanie learned office procedure, at her grandmother, Ruth's side.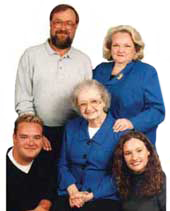 As the business grew, Jerry's wife, Deedee, joined Ruth in the office too, thus making it a complete family operation.
Herb Felger passed away in 1999.
However, the business is still operating with the same
honesty and integrity that Herb instilled in his family.
Felger's carries a full line of Belgard, Keystone, and Versa-lok pavers and retaining wall blocks, surebond joint stabilizers, sealers, adhesives and cleaners.
Polymeric sand, snap edge paver edging,
and a full line of SRW products are also available.

Thank you for taking the time to look through our website.
We look forward to doing business with you.
If you have any questions please give us a call or stop by.